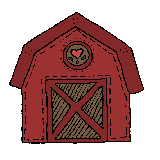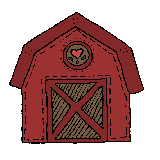 "And the Angel said unto them, Fear not: for, behold, I bring you good tidings of great joy, which shall be to all people. For unto you is born this day in the city of David a Saviour, which is Christ the Lord."
Luke 2: 10-11
The pictures to the right is a short picture show of the day this filly came out joining our world. She was happy to get out of the cramped quarters as much as mom was happy to have her delivered.
June seems a bit late in the season for your babies to arrive. Flies & heat factors really challenge everyone. But, when this little gal arrived, we all cheered to see such a fun filly. Mom has been hoof sore for the last half of carrying her, & to get the weight off her feet was a huge relief. ShezHustlersHeir is a pending name with APHA, but in doing a name search, it's not taken. Hair color testing will need to be done as it's not sure what color she actually is, but we can see she's a regular registry Paint. She has one eye blue & the other gold with eyeliner on both. Future plans for her can go in many directions. It'll be fun to watch her grow and develop. Stay tuned for official testing results.
May 11, 2023
​
This little filly popped into Don & Judy Shuda's world early on that Thursday morning. What a fun surprise out of the black mare,
LuckyMidnightBreeze, and HustlersGold Temon-sire.
Judy is going to retire Breeze, but the two fillies she has produced with Rafe, are going to be show stoppers for sure.
Congratulations to everyone!!!
​
March 16, 2023:
It was a cold snowy morning when Ruthie [BuckskinJackieJo] decided it was time to deliver her baby into our world. He arrived around 10:00 a.m. surprising everyone with his color and 2 blue eyes. Getting all those 1st completed didn't take too long. After mom expels placenta she's ready to love on her new little guy. While he lacks those desired spots for APHA regular registry, he's packaged with all the other things one looks for in that new baby. Selecting a fitting name is always needed. Since this is the 1st colt from this stud mare combo, Rubin is fitting as it means "behold a son". Color coat and genetic testing will need to be completed before we can officially have his name, color and registration papers. Lots of opinions abound on his color. He cannot be a buckskin as his tail is not black. He cannot be a palomino as his tail is not white. There are other possibilities like "Perlino" or "Champagne". Stay tuned here for those test results confirming what many are considering to be his color. It's indeed a learning curve about what it all means. Posted below is a chart for all the possibilities and link to Veterinary Genetics Lab in Davis, CA.
To the left is a chart that runs the numbers for color suggestions. It's always fun to see the numbers. While the color factors cannot be absolutes, they give one an idea before and after the baby arrives.
His register application from APHA says:
GOLD CHAMPAGNE
Will post when test results arrive.
Click on button below for additional information.